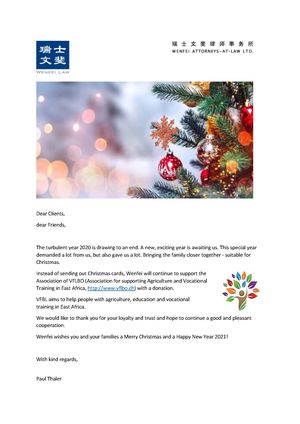 Within the scope of the seminar «Mastering China at the Board», which is organized by the International Center for Corporte Governance (IcfCG) and the China Europe International Business School (CEIBS) our Managing Partner Dr. Paul Thaler was invited to talk about Mastering the Chinese Legal System. His presentation will focus on Legal Issues & Corporate Governance on the Board Level in China.
We congratulate our Resident Partner, Samuel Baumgartner, to his re-election as President of SwissCham Beijing. We are pleased to be able to support a strong Swiss business community in Beijing in the year ahead and wish Samuel continued success in his office.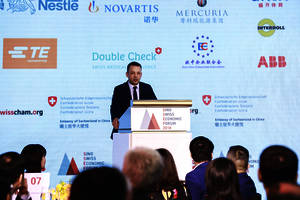 Wenfei congratulates its Resident Partner, Yaqi Liu, on her election as Board Member of SwissCham Shanghai. Wenfei has been a member of SwissCham since its foundation and is pleased that Yaqi Liu can make a contribution to the Swiss Business Community in Shanghai. We wish Yaqi a successful year as a new board member.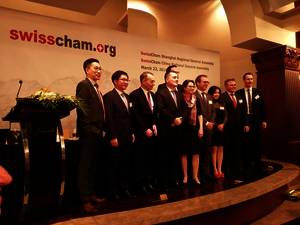 With Wenfei's legal assistance and advice, a Swiss company GH AG focused on renewable and high-tech material has successfully sold the shareholding in its former subsidiary to a PRC investor. Wenfei is glad that after 5 months of overcoming the many complex transaction hurdles, including workers' unrest and strikes, strict scrutiny by local authorities, international bank guarantee, pending bank loans and domestic escrow account involving foreign entities etc., the closing has successfully taken place within the estimated time schedule.
We congratulate our longtime colleague, Laurent von Niederhäusern for his new position with a major Swiss company with global appearance. As of January 2017, Laurent has left Wenfei Attorneys-at-law Ltd. Wenfei would like to thank Laurent for his splendid work at Wenfei; we have always appreciated his excellent services and wish him all the best of luck for his future endeavours. We are glad to see him staying close to his passion with Indonesia.
Wenfei congratulates its Resident Partner Samuel Baumgartner for becoming a board member at SwissCham Beijing. Wenfei has been a proud member of SwissCham since its establishment and is thrilled that Samuel will have the chance to contribute to this important institution for the Swiss business community in China.
In an ICC arbitration with seat in Hong Kong, Wenfei Law has once more achieved a positive outcome for its client, a Swiss manufacturing company with a strong presence in China. In the arbitral award, the counterparty – a major Chinese manufacturer – has been ordered to pay RMB 12.8 million in damages in compensation for a breach of contract. This case adds to the existing expertise that Wenfei Law has acquired over the years with respect to China-related ICC arbitration proceedings in Hong Kong.
Citizens of Switzerland and of 50 other countries will be permitted visa free entry into China for short term stays of not more than six days, the Chinese State Public Security Ministry announced. They must, however, enter and leave the country through one of the airports, seaports or railway port in Shanghai, the Hangzhou airport or the Nanjing airport and they must remain in Shanghai or the provinces of Jiangsu or Zhejiang the entire time of their stay. Besides the Swiss, the citizens of the following countries are eligible for a visa free short term stay:
Austria, Belgium, Czech Republic, Denmark, Estonia, Finland, France, Germany, Greece, Hungary, Iceland, Italy, Latvia, Lithuania, Luxembourg, Malta, Netherlands, Poland, Portugal, Slovakia, Slovenia, Spain, Sweden, Russia, Britain, Ireland, Cyprus, Bulgaria, Romania, Ukraine, United States of America, Canada, Brazil, Mexico, Argentina, Chile, Australia, New Zealand, South Korea, Japan, Singapore, Brunei, the United Arab Emirates, Qatar, Serbia, Croatia, Bosnia and Herzegovina, Montenegro, Macedonia and Albania.
On November 30. 2015, the People's Bank of China (PBOC) issued the Announcement [2015] No.38, according to which, PBOC decides to authorize the Zurich Branch of China Construction Bank to serve as the clearing bank of RMB business in Switzerland in accordance with the Memorandum of Understanding between the People's Bank of China and the Swiss National Bank.
On October 14, 2015, our Liu Yaqi was invited to speak at a seminar held by the Swiss and the German Chambers of Commerce at the Beijing Lufthansa Center. Yaqi provided some fascinating insights into the world of M&A. Wenfei Lawyers are regularly asked to speak at seminars and conferences.
Please kindly note that the Beijing Office of Wenfei Law has been relocated on July 4, 2015. The new address, telephone and fax number are as following:
北京市东城区东四十条甲22号南新仓商务大厦A座1506室
邮编100007
Room A1506, Nanxincang Business Plaza, A No.22 Dongsishitiao, Dongcheng District, Beijing 100007
Tel.: +86 10 51690263
Fax: +86 10 51690965
We look forward to further serve you at our even nicer new premises!
On 27 October 2014, Paul Thaler, Anne Granzow and Magda Olszewska travelled to Warsaw. The aim of the trip was to explain to Polish companies the possibilities and opportunities for investments in China and also to introduce them to Wenfei's newly established Sino-Polish Desk. As part of the trip, the Wenfei team visited selected companies and institutions, with whom they discussed their prospects in China and Chinese law. Among others, Wenfei held a presentation to the members of the National Association of Dairy Cooperatives. Furthermore, Wenfei paid a visit to the Polish Institute of International Affairs and met with representatives of the Swiss Business Hub Poland.
Almost three years ago, Wenfei Law has initiated an ICC arbitration procedure in Hong Kong for a large Swiss company regarding commercial disputes over a joint venture agreement with a Chinese company. First, Wenfei Law was able to convince the Arbitral Tribunal to confirm its competence against an objection to jurisdiction raised by the counterparty. Wenfei Law has then gathered large amount of evidence in China, submitted substantial submissions on Chinese law, pleaded at an arbitration hearing and obtained interim measures against the counterparty. These efforts have recently been rewarded as, in the Final Award, the Swiss side has won on most of its requests and has been awarded a substantial compensation.
In two arbitration proceedings that were initiated at the Shanghai Arbitration Commission ("SAC") against a client of Wenfei Law, our firm has achieved a success in challenging the jurisdiction of the SAC. In the two respective arbitral awards, the SAC concurred with Wenfei Law that there were no valid SAC arbitration clauses covering the counterparty's alleged claims related to a lease agreement for industrial land and an agreement on related services.
Wenfei successfully assisted the Chinese buyer of a majority participation in a Swiss company active in the marine engine industry. Wenfei supported the buyer in the legal due diligence as well as with the review and negotiation of the contractual framework.
Upon invitation of SwissCham China, Mr Laurent von Niederhäusern and Mr Andreas Lehmann took part in the high-level forum taking place on 1 July 2014 in Beijing to celebrate the entry into force of the Sino-Swiss FTA. The forum took place in the presence of Swiss State Secretary for Economic Affairs, H.E. Mrs. Marie-Gabrielle Ineichen-Fleisch, and Chinese Vice-Minister of Commerce, H.E. Mr. Zhong Shan, and brought together high-level representatives from the Sino-Swiss business community, government officials and members of academia in order to explore the new opportunities the agreement will bring in strengthening bilateral economic exchange.
On 1 July 2014, the free trade agreement between Switzerland and China enters into force. On this occasion, Mr. Schneider-Amman, Member of the Federal Council, invites Wenfei to a ceremonial reception in Basel. Wenfei will gladly accept this invitation and is pleased to work together with other experts to continue to make a contribution to the further improvement of Sino-Swiss business relations.
On May 28, 2014, Lukas Zuest and Chen Cheng held a presentation with SwissCham Shanghai about the New Chinese Company Law and the influences of the changes on foreign direct investments in China.
Wenfei is glad to announce that Ms. Lin Ke is working for Wenfei as of counsel. Lin Ke, after a period of employment in Wenfei's Beijing office, is now returning to Wenfei as of counsel.
Wenfei represented a German shoe company in a litigation against its Chinese supplier regarding a damages claim resulting from a shipment of damaged products. Drawing on its know how of the special features of the Chinese court and civil procedure system, the team of lawyers from Wenfei devised a detailed litigation strategy, initiated the proceedings and closely guided the work of the local PRC lawyer at the People's Court in Wenzhou City, Zhejiang Province. By successfully negotiating a settlement agreement at an early stage of the court proceedings, Wenfei was able to secure a quick and positive outcome for the client while avoiding the inherent delays and risks often involved in Chinese court proceedings at a provincial level.
Wenfei Law successfully assisted a Chinese creditor in an attachment procedure in Switzerland against a debtor abroad based on a foreign arbitral award. By way of the attachment, the funds of the foreign debtor on its Swiss bank account were seized, and the creditor was awarded with a substantial amount.
Wenfei is glad to announce that Mr. Han Jinbang, after many years of employment in Wenfei's Beijing and Zurich offices, is now returning to Wenfei as of counsel. With his many years of professional experience, his in-depth knowledge of Swiss Law (LLM of the University of Zurich), his master's degree from a leading university in China (Peking University) and his excellent language skills (Mandarin, English and German), Mr. Han Jinbang will once more be a valuable asset to the Wenfei team.
Our very reliable and experienced Ms. Liu Yaqi, who graduated from Beijing Foreign Studies University and obtained her LLM Degree at Cornell Law School, will act as our of counsel in Wuhan. The increasing trend of "Go West" for investments in China will also require European companies to consider investments in and around Wuhan. Consequently, we are very satisfied to expand the geographic scope of our long established firm to this region.
PRC entrepreneurs established a substantial investment in Switzerland with Wenfei's advice for a confidential shareholding structure. The Chinese shareholder agreements were successfully adapted to mandatory Swiss law. The new Swiss entity was established in a short time period.
Lukas Züst will hold a presentation at the seminar "Speed​​, Action: Results! Doing Business in China," of the Lorange Institute of Business Zurich on December 5, 2013 with the topic "Doing Business in China - Legal Challenges for Swiss Companies" hold. More information and registration under:http://www.lorange.org/de/module/oneDay/doing-business-in-china
Wenfei Attorneys-at-Law Ltd. organizes a Breakfast Seminar with the topic "Contracts in China – the way to successful business" in cooperation with Switzerland Global Enterprise. The Breakfast Seminar takes place on 14 November 2013 at the Hotel Marriott in Zurich. If you are interested, please see details here: Invitation download
The annual office outing of Anne, Lukas and Paul of the Wenfei-Zurich team took place on July 19, 2013. This year again, we discovered our athletic side and decided to go rafting on the Inn in the beautiful Lower Engadine (Graubünden). In order to have more strength for the tough ride, we first had to fill our hungry stomachs with some traditional Swiss foods. Adhering to the motto "back to nature, back to the roots", we made a fire and enjoyed "Cervelat and Snake Bread". After getting strength, we could finally begin the adventure "Rafting on the Inn". The river held in the stunning Giarsun-canyon some heavy white water rapids for us - but no one of us ended up in the cold river and thus we had a lot of fun and herewith thank the team of "Engadin Adventure" for a great and safe trip on the water.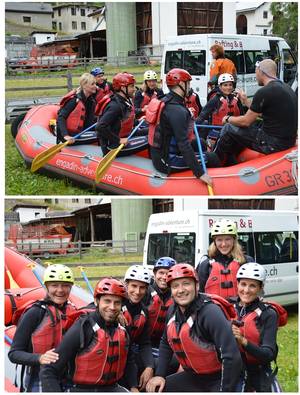 Premier Li Keqiang accompanied with a delegation visited Switzerland on 28.05.2013. Dr. Paul Thaler, accepting his invitation, participated in the reception of the visitors from China and listened to Li Keqiang's views on the further development of Chinese economy in an exclusive setting. Federal Councillor Schneider-Ammann and Li Keqiang also commented on the already negotiated free trade agreement between the PRC and Switzerland.
Wenfei and its cooperation partner Froriep Renggli welcomed the delegation of Beijing Lawyers Association under the leadership of Mr. Zhang Weihua on May 13, 2013 in Zurich. There was a very pleasant discussion on the organization and management of law firms and associations of both countries with the members of the delegation.
Baoshida (Switzerland) AG acquired from Swissmetal Industries AG, the subsidiary of a listed Swiss company, the assets at the two production facilities in Dornach and Reconvilier, the land in Reconvilier, and intellectual property rights, particularly trademarks and patents. It also takes over all employees at the two production facilities. Furthermore, Baoshida (Switzerland) AG acquired the trademarks "Swissmetal" from the listed parent company of Swissmetal Industries AG.
January 10, 2013
Wenfei proudly assists PRC companies in their Swiss transactions in the area of renewable energy. The recent project covers a legal due diligence and the drafting as well negotiation of a share purchase agreement.
12 November 2012
Wenfei successfully established the jurisdiction of a Sole Arbitrator in an ICC arbitration in Hong Kong for Claimant. The Respondent was not able to convince the Sole Arbitrator that the arbitration agreement was allegedly invalid according to PRC law. Even reference to strange awards from local courts in China did not help Respondent to challenge jurisdiction.
7 November 2012
OSEC, the export, import and location promotion agency of Switzerland, supports Swiss companies in their internationalization, particularly in the inquiry and management of export opportunities abroad, and promotes Switzerland as a business location abroad. The status of Official OSEC Expert (OEE) is awarded to selected experts after an examination by OSEC. Wenfei Law is delighted to have this accreditation and is looking forward to continuing working together with OSEC.
On Wednesday, October 17, 2012, Dr. Paul Thaler will attend a seminar of SCCC in Zurich as a speaker. He will make a presentation on "risks and stumbling block in China business." The goal of the seminar is that how to make the Chinese market more efficient, effective and avoid the stumbling block.
On 5 September Mr. Lukas Züst participated at the China-seminar of China-platform Connect China 2012 in Horgen as a speaker. He led a workshop on "Chinese market entry via Hong Kong - Opportunities and Risks". The seminar provided the participants a chance to find the latest information on China and also many new contacts from experienced experts.
On August 22nd, 2012 Dr. Paul Thaler participated as an advisor to the first meeting of the China Business Platform at the Technology Park in Basel. This event was organized under the direction of M. Christoph Brutschin, Head of the department of Economic, social and environmental affairs of Basel-city.
On July 13th, 2012 in Shanghai, Wenfei was invited to give a lecture based on its knowledge's gathered from its more than 15 year-long history advising clients in China. Wenfei exposed insights on topics such as arbitration, litigation to an large delegation of Swiss businessmen as well as the Chief of the Federal Department for Economy.
In Beijing, the country heads of ABB, Nestlé and Wenfei's Dr. Thaler briefed Mr. Schneider-Ammann, Minister of the Federal Economic Department, and key persons of his delegation to China in a working lunch on 10 July 2012.
Wenfei Business Consulting will move his Shanghai Office to a new location on Friday, June 29, 2012.
The new address is:
上海市徐汇区漕溪北路18号18D邮编200030
Room 18D, No. 18, Cao Xi Bei Road, Shanghai 200030
And the new telephone number and fax number are:
Tel.: +86 21 64276258
Fax: +86 21 64276259
Please kindly be noted that there is the possibility of some disturbance during the moving process. Our Zurich and Beijing office can always be reached, in case there are communication problems during the moving day. We apologize for any disturbance maybe happen.
Our Zurich office will be closed on Friday, June 22, 2012. The lovely lawyers and assistants will be on their annual office trip!
Wenfei has again completed a legal due diligence and prepared transaction documents for a large Chinese entity acquiring substantial assets from subsidiaries of a listed Swiss company!
Our Zurich office welcomes Laurent von Niederhäusern, our Swiss lawyer based in Beijing, for the time from 16 April until 11 May. Laurent will stay in Switzerland for a specific project during this time.

Wenfei believes that a sustainable, environment-friendly practice is important and therefore uses green electricity in its Zurich office!
We cordially congratulate our Chen Cheng for having past the PRC bar exam. After already having finished German studies in Shanghai and five years of legal studies in Switzerland (lic.iur), he is successfully working for our firm since May 2nd, 2006. We are very proud to have such a lawyer in our team who not only possesses strong language skills, but also is capable to handle both Chinese and Swiss law.
On 18 November 2011, Wenfei Law launches its new website, featuring a fresh look, enhanced features and the possibility for users to subscribe to our publications online. All the contents of the old website have been retained, so that all of Wenfei's publications can be found. Most importantly, a new French version appears alongside of the German, English and Chinese versions. You are welcome to explore our new website, thank you!
We heartily welcome Ms. Milena Reutlinger who joined our Shanghai Office on the 1st of November 2011. Ms. Reutlinger is an experienced Swiss lawyer, admitted to the Swiss bar. Her work experience in a top-tier business law firm in Zurich and in the Embassy of Switzerland in Singapore makes her a valuable recruitment for our firm.
We heartily welcome Mrs. Zheng Zhuo as a new lawyer in our Zurich office. Zheng Zhuo is an experienced lawyer who started her legal career in 1999 with a French law firm and then joined a U.S law firm. From 2001 to 2009, she served successively for two world famous companies as an in-house counsel. She moved to Switzerland at the end of 2009.
Wenfei Law will move his Beijing Office to a new location on April 26, 2011.
The new address is:
北京市朝阳区东三环北路2号北京南银大厦901室, 邮编100027
Room901, Beijing Silver Tower, 2# North Rd. Dong San Huan, Chaoyang District, Beijing 100027 P.R.C.
All telephone numbers, E-Mail addresses and so on will remain the same. However, there is the possibility of some disturbance during the moving process. Our Zurich and Shanghai office can always be reached, in case there are communication problems during the moving day. We apologize for any disturbance maybe happen.
Wenfei would like to cordially congratulate its long-time colleague Mattea Meyer on her election to the parliament of the Canton of Zurich! This is an outstanding achievement for a young student! We are confident that Mattea's reliability and knowledge, which are well known and greatly appreciated in our firm, will boost the Canton's politics. Go, Mattea, go!
On June 1st, 2010, Wenfei's Lukas Zuest and Cheng Chen attended the Greater Zurich Area (GZA) Seminar "Zurich, the Springboard for your expansion to Europe" in the Swiss City Pavilion at the site of Shanghai World Expo 2010. This Seminar introduced the advantages of Great Zurich Area for the expansion to Europe to Chinese enterprises. Around 30 distinguished Chinese representatives of Chinese enterprises were present. For the interview by STV (Shanghai TV) of Mrs. Sonja Wollkopf (CEO of GZA) and Mr. Urs Tobler (Director Asia), Wenfei's Cheng Chen was asked to help as Chinese-German interpreter. He gladely assumed this task (see photo).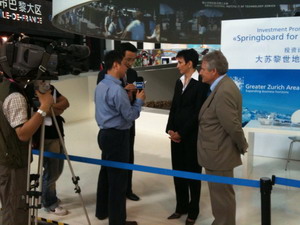 We cordially congratulate our Mattea Meyer, who has been elected as councillor of the City Council of Winterthur, which is the legislation body of the second biggest city in the economically strongest canton of Switzerland. We are very proud to have such a young and determined politician in our team.
Wenfei Law has recently informed clients and other relevant enterprises about important changes in PRC Law. The purpose of such information (see below's link) was to provide them with a briefing of China's 3rd revision of its Patent Law and the substantial impacts it may have on the regular business practices of a European company active in China.
Dr. Paul Thaler, Partner of Wenfei Law, is invited to participate in a dinner of the economiesuisse and the Switzerland-China Chamber of Commerce with the Chinese Vice Prime Minister, S.E. LI Keqiang. The dinner is planned with high-ranking representatives of the Swiss economy and will take place on Monday, 25 January 2010 in Zurich.
We welcome our new legal trainee Philipp Kuhn, who holds a degree in law from Eberhard Karls University of Tuebingen, Germany. After graduation in 2008, Philipp Kuhn has worked with German district courts, the public prosecutor of Stuttgart and a law firm in Stuttgart.
On 23 October 2009, the Federal Department of Foreign Affairs invited for the Roofing Ceremony of the Swiss Pavilion EXOP 2010 Shanghai. Federal Councillor Eveline Widmer-Schlumpf, Head of the Swiss Federal Department of Justice and Police (EJPD), was guest of honor. The ceremony was also attended by the Swiss Ambassador to the People's Republic of China Mr. Blaise Godet and a delegation from the Swiss Federal Parliament, led by National Councillor Bruno Zuppiger.
The Swiss Pavilion will have the theme "Rural – Urban Interaction". In her speech, Mrs. Federal Councillor Eveline Widmer-Schlumpf pointed out that "the Swiss are strongly aware of the benefits of a close interaction between rural and urban areas. This is natural, as Switzerland is small, mountainous and densely inhabited and has a solid rural tradition alongside thriving cities. We have the duty to find sustainable ways of protecting and conserving our natural heritage - while improving living conditions in urban areas."
After the official program of the Roofing Ceremony, which was concluded with the traditional raising of the tree to the roof top, Swiss Raclette and Wine were served to the guests.
Wenfei's Mr. Lukas Zuest felt honored to having witnessed the Roofing Ceremony of the Swiss Pavilion EXPO 2010 Shanghai.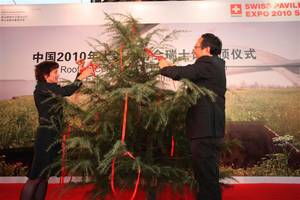 Federal Councillor Eveline Widmer-Schlumpf and Mr. Huang Jianzhi, Deputy Director General, Bureau of Shanghai World Expo Coordination (Picture: www.swisspavilion.ch).
For many years, Wenfei Law has not charged its clients with all of the specific expenses and costs related to their mandate (i.e. IT and telecom costs, couriers, copies and even flights). Instead, a lump sum fee of 2% on the respective service fee was charged in the invoices of Wenfei Law. Starting from 2009, such fee for incidental expenses shall be 3.5%.
This first increase since two years is not only caused by ever increasing costs for flights, telecommunications and office costs in China but also by the increasing amount of Wenfei invoices that become subject to 5% business Tax in China. While we so far, unlike other firms, have not asked clients to reimburse such business tax, we might reconsider after the first half year of 2009.
Congratulations to Dr. Paul Thaler, Partner of Wenfei, who has been requested by a leading Swiss publisher for legal matters to write a book on PRC business law. The result of this joint effort of Wenfei Attorneys-at-Law Ltd. with Dr. Thaler as the chief editor will be published on 2nd February 2009.
In this book, we focus on the most important laws and rules that govern business in China. With regard to the structure of our explanations, we rely on the traditional structure of continental law. Where necessary, however, we have introduced special chapters that take into account the unique features of Chinese law (i.e. State-owned entities (SoE), Land Use Rights, Foreign Exchange Control).
The content of this book shall facilitate the understanding of Chinese Business Law for foreign legal professionals, managers as well as students.
Swissnex Shanghai and Pro Helvetia celebrated their 1st anniversary of co-operation and Pro Helvetia's publication "Passages China" and therefore invited for a discussion evening on Sino-Swiss artistic exchange with Uli Sigg, Chinese Contemporary Art Collector and Swiss Friendship Ambassador to China, and guests.
Wenfei's Mr. Paul Thaler, Mrs. Wang Hui and Mr. Lukas Zuest attended this enjoyable discussion on 21 October, 2009 at the Minsheng Art Museum Shanghai.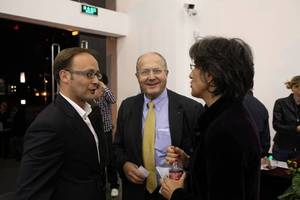 Paul Thaler, Managing Partner Wenfei Law, Mr. Thomas Wagner, former Mayor of the City of Zurich and Mrs. Flavia Schegel, Executive Director Swissnex Shanghai. (from left to right), (Picture; www. swissnexshanghai.org).