Managing Partner of Wenfei Law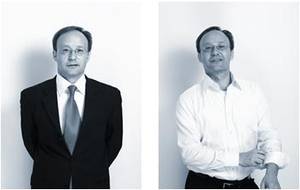 Practice
Paul supports clients in commercial and corporate law, heads our due diligence and transaction team, and works as attorney and arbitrator in various arbitration proceedings (ICC, Swiss Rules, CIETAC, SIAC, DIS, Beijing Arbitration Commission, Shanghai Arbitration Commission, UNCITRAL). An additional focus of Paul's practice is intellectual property law and foreign direct investment in China and Switzerland. Paul has assisted many Chinese entities in setting up ideal corporate and tax structures in Europe.
As former director of listed companies in China, Paul is also familiar with capital market law, social insurance, labor and tax laws of the PRC. Finally, Paul is our expert for advising architects and designers in large construction projects.
Education and Professional Experience
Paul graduated from the Law Faculty of the University of Zurich and obtained the doctor's degree for a legal comparison of intellectual property rights in China and Switzerland. To this end, he also spent two years as visiting scholar of the Beijing University. In 1995 he was admitted to the Zurich bar.
Paul started his legal career at Bulach District Court. He also practiced at a renowned PRC law firm in Beijing for two years, and later became head of the China Department of a leading Swiss law firm. In 2006, Paul founded Wenfei Law and since then has been its Managing Partner. Paul has also been member of the board of directors of a large listed PRC Company for more than a decade.
Languages
Paul handles legal work in German (mother tongue), English and Mandarin since more than 20 years. French speaking clients also often contact him in their language.
Interests
Paul's passion for travelling in Asia, Africa and India is shared by his adult daughter. German and Chinese philosophy provide comfort when Paul is defeated by his son in their regular sport matches. Paul loves Jazz and German theater, enjoys dancing as well as ballet and visits the opera only to please his wife. All of his family supports the Association for the Promotion of Agriculture and Vocational Training in East Africa (www.vflbo.ch).
Publications
-China Business Law (2009)
-Der immaterialgueterrechtliche Rechtsschutz in der VR China und der Schweiz (2001)
-Editor for many years of the online publication, China Legal Briefing and China Legal Report.

Contact Dr. Paul Thaler on Linkedin
Member of ASA - Swiss Arbitration Association
Member of IPBA - Inter-Pacific Bar Association